Let's Make Your Resume Shine
Marketing and Sales
Resume Samples
Want to win at your job search? Our sales and marketing resume samples show what it takes to elevate a career to the next level. A well-designed resume showcases expertise, passion, and values in a way that aligns with your ideal employer.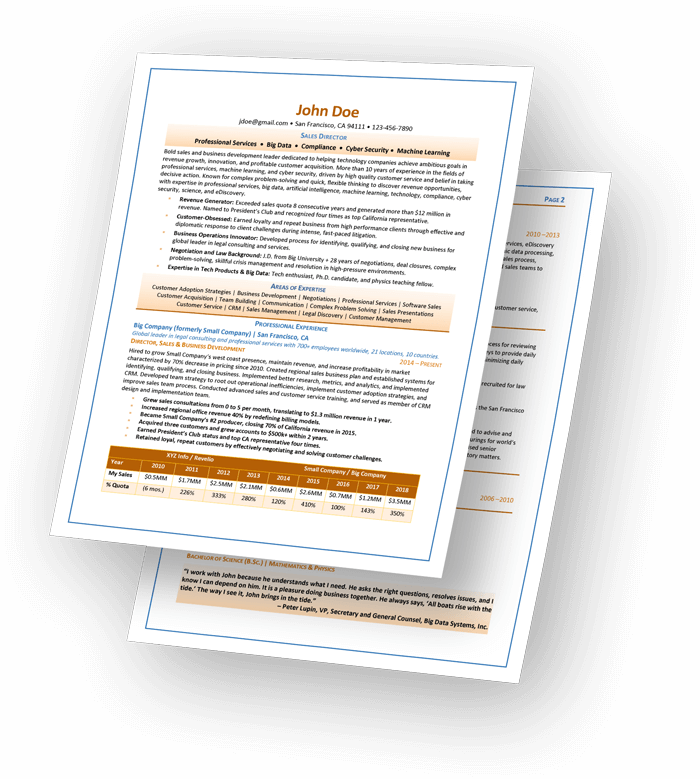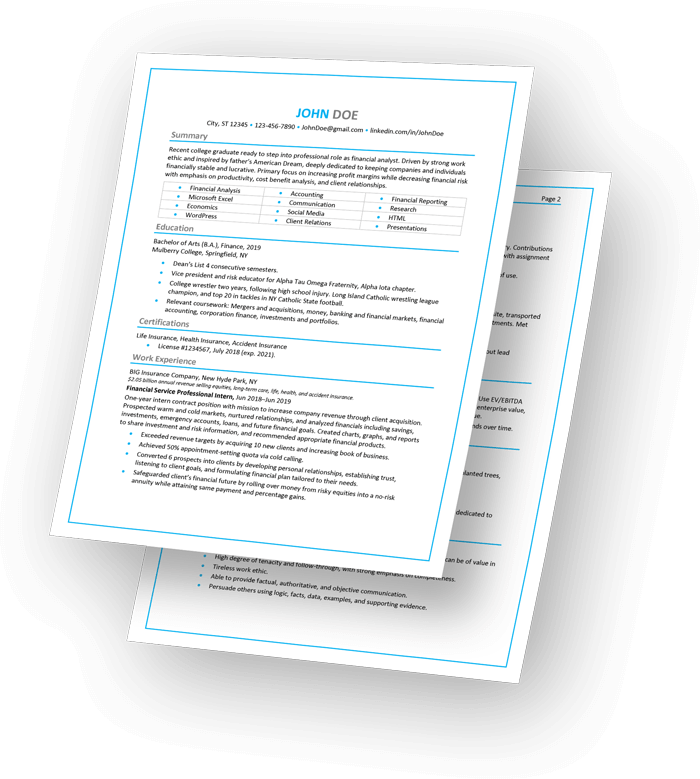 Resume Examples for
Rising Professionals
From the accomplishments that catch a recruiter's attention to the keywords that help you make it through the Applicant Tracking System, an eye-catching resume is essential. Browse some of our best resume examples to explore the possibilities.

Not Every Cover
Letter Is the Same…
Recruiters, hiring managers, and peers need different information to help move you along to the next level. I can provide you with cover letters for job search, recruiters, and networking.

It's Time for a LinkedIn Profile Makeover
Here's just a quick glimpse at the difference career branding can make in a LinkedIn profile. A fully optimized profile dramatically increases profile views and interest by engaging recruiters—and letting your network know exactly what job opportunities to send your way.


Targeted Resume Distribution
Gain traction in your job search by distributing your resume and cover letter (e-mail) to recruiters, headhunters, and executive search firms. It is estimated that almost two-thirds of executive positions are filled by executive search firms. The database is updated weekly, and consists of 16,000+ firms and 32,000+ retained and contingency recruiters, including Boyden, Egon Zehnder, Heidrick & Struggles, Korn Ferry, Spencer Stuart, and other top-ranked companies.
Here's how it works…
You'll fill out a form to refine your search by industry, position, salary range, and location. I'll oversee your distribution, and provide a spreadsheet with each recruiter's and headhunter's name, company, and contact information so you can build relationships and stay in touch with the people who received your resume.
Learn More About Branding Your Career
Make your next job have a lasting impact on your income, your career, and your life.